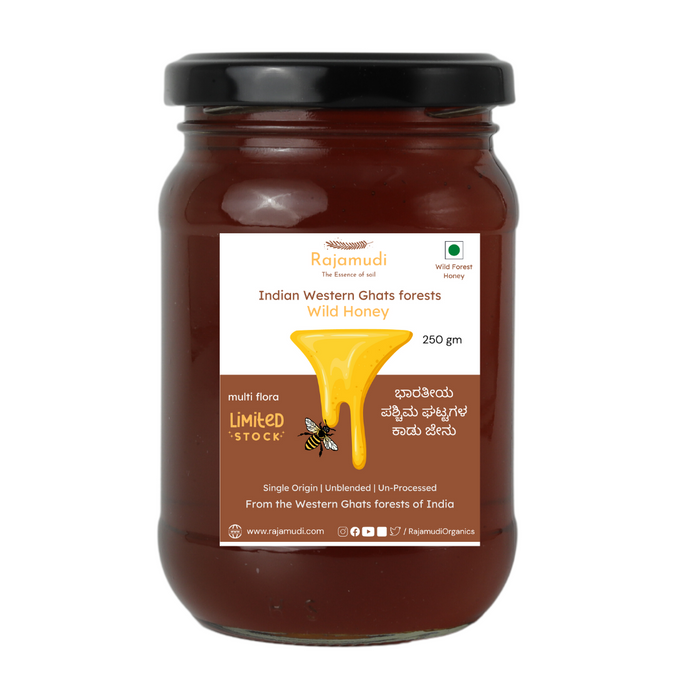 Western Ghats Multiflora Wild Forest Honey: Nature's Liquid Gold from Lush Canopies
Sold out
Original price
Rs. 0.00
-
Original price
Rs. 0.00
Dive into the enchanting sweetness of our Multiflora Wild Forest Honey, a treasured elixir sourced directly from the pristine rainforests of the Western Ghats. Every drop is a testament to nature's unspoiled beauty, capturing the diverse flora of one of the world's biodiversity hotspots. Hand-harvested by local beekeepers using sustainable practices, this honey not only boasts a rich, layered taste but also carries the health benefits of its varied floral sources. It's more than just honey; it's a journey through the verdant landscapes of India, bringing to your table the essence of forests that have stood tall for millennia. Experience sweetness with depth, and health benefits that go beyond the ordinary with our Western Ghats Multiflora Wild Forest Honey.
Features:
Sourced from the Western Ghats: Tap into the pure essence of one of the world's most diverse ecosystems.
Multiflora Composition: A harmonious blend of nectars from various wildflowers ensures a unique flavor profile.
Traditionally Harvested: Hand-collected by local beekeepers who respect nature's balance.
Sustainable Practices: Our extraction methods ensure the bees and their habitats remain undisturbed.
Chemical-Free: No preservatives, additives, or artificial sweeteners.
Benefits:
Natural Sweetener: A healthier alternative to processed sugars and artificial sweeteners.
Nutrient-Rich: Packed with essential nutrients, enzymes, and antioxidants.
Aids Digestion: Natural enzymes in honey can help soothe the digestive system.
Boosts Immunity: The floral sources from the Western Ghats provide a unique blend of properties that can help bolster your immune system.
Skin Care: Natural antibacterial properties make it an ideal choice for skin nourishment and care.