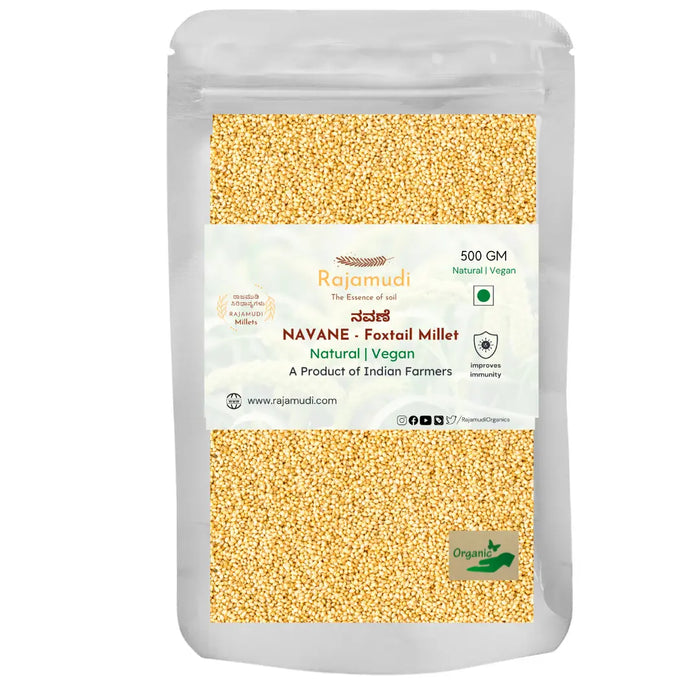 NAVANE - Foxtail Millet | Rajamudi
Save

30

%
Save

36

%
Original price
Rs. 139.00
Original price
Rs. 139.00
-
Original price
Rs. 399.00
Original price
Rs. 139.00
NAVANE - Foxtail Millet is also adapted to moderate climates. It produces long, cylindrical or lobed, bristly, condensed panicles. China Ranks first in the production of foxtail millet in the world. It is grown there for both food and feed. The crop is also grown in India, Indonesia, the Korean peninsula and some parts of southern Europe. It is not grown to any extent in Africa outside the eastern highlands. Prior to the availability of sorghum-sudangrass forage hybrids, foxtail millet was an important temporary pasture species..
(Hindi: Kangni, Tamil: Tinai, Telgu: Korra, Malayalam: Thina) 
Description: Foxtail millet are small seeds, around 1.6 to 2.0 mm in diameter, are encased in a thin, papery hull that is easily removed in threshing. Seed colour peal yellow to yellow.
Cooking Instructions:
1. Wash and Soak 1 Cup of Millets for 10 minutes in clean water.
2. Pressure cook on high flame till the second whistle.
3. Slimmer/lower the flame and cook for another 5 minutes.
4. Wait for the pressure to release and serve hot with your favourite curry.
Best before 9 months from packing.
Nutrients Information per 100gms:
Energy: 353 (kcal)
Protein: 8 g
Fat: 3 g
Carbohydrates: 72 g
Dietary fibre: 5 g
Nutrient information Per 100g.
(approximate composition)
Traditional uses
The grain of Foxtail millet is used in China as an astringent and emollient in choleric affections and diarrhoea.
The seeds are used in India as a diuretic, to strengthen virility, treat indigestion, dyspepsia and rheumatism.
It helps to treat food stagnancy.
The seeds (green) help to reinforce virility.
The white seeds are useful for fever and cholera.
The decoction made from Setaria oil and bark of Acacia Modesta is used as a tonic or to raise fertility in females and males.
It is used in India to enhance vigour and treat bone.
The cooked grains are used in Chhattisgarh as a cure for diarrhoea.
The paste is externally used as a cure for swellings.
It is combined with other herbs to cure Dysuria.
In Aurangabad, the decoction made from the whole plant is used internally for rheumatism and to reduce the pains caused due to parturition.
The seeds are used to treat diabetes.