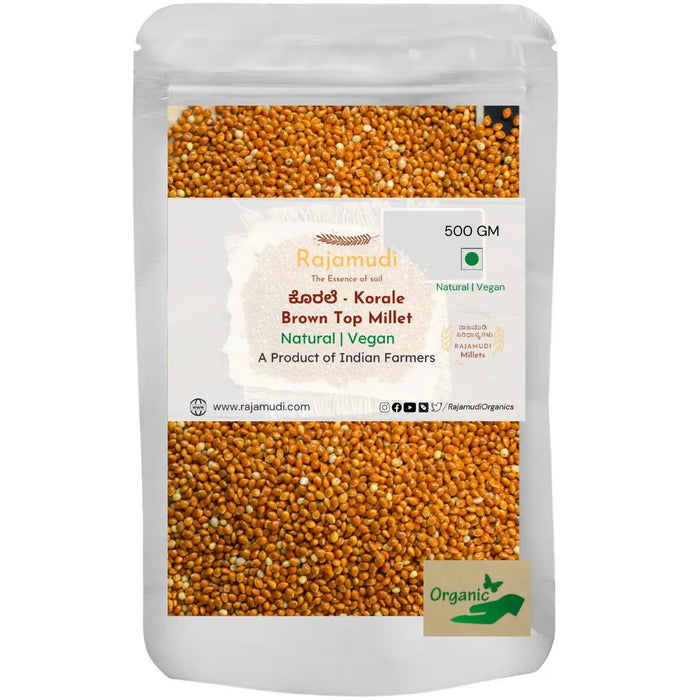 KORLE Brown Top Millet (ಕೊರಲೆ) - Rajamudi organic Millets | Rajamudi
Original price
Rs. 169.00
-
Original price
Rs. 469.00
Original price
Rs. 169.00
Rajamudi Browntop Millet contains 100% more Dietary Fibre than White Rice. Browntop Millet contains 20% more Protein, 300% More Iron and 600% more Folate than White Rice.
This millet is Minimally processed. Only the hard outer husk is removed without losing the bran, so the goodness of the bran & nutrients stay intact.
Rajamudi Browntop Millet cooks in just 10 minutes. Just boil or cook like white rice and a nutritious meal is ready in a minute.
Rajamudi Browntop Millet is nutritious and gluten-free.
How to cook :
1. Wash & Soak the 250 gms of millet for 10 minutes.
2. Drain the water and add 3 cups (300 ml) of water.
3. Pressure cook on high flame till the second whistle. Simmer the flame and cook for another 5 mins.
4. Wait for the pressure to release and serve hot with your favourite curry.
Uses of Brown Top Millet:
Brown-top millet was used widely to make traditional sweets, but nowadays with the advancement of technology, they are used for making ready to eat products, breakfast cereals, healthy snacks, and snack bars. Furthermore, they are also used for making value-added products including gun puffing, hot and cold mixing, baking and instant mixes with the application of conventional food technologies.
Health benefits of Browntop Millet
Compared with other grains, browntop millet has high nutritional value. It is rich in fibre, iron, calcium, potassium, magnesium and many other important minerals. Browntop millet eases constipation and helps in detoxifying the body. It helps to control high blood pressure and acts as a probiotic for respiratory disorders. It is also recommended for skin and arthritis problems. Highly recommended in cases of gastric ulcers and colon cancer.