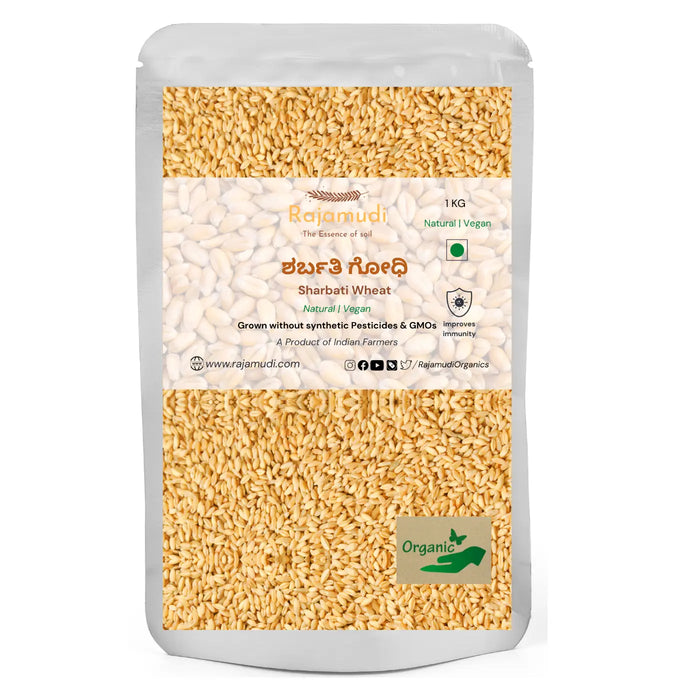 Organic Wheat Sharbati By Rajamudi
Sold out
Original price
Rs. 199.00
Original price
Rs. 199.00
-
Original price
Rs. 1,599.00
Original price
Rs. 199.00
Sharbati is the Tastiest and most delicious option in wheat, The rotis / bread are softer, sweeter, and delicious with sharbati wheat..
"Sharbati" is the most premium type of wheat available in the country. Sharbati wheat is grown in abundance in Madhya Pradesh and the North Indian State Punjab. Sharbati wheat is also called The Golden Grain because its color is golden, it looks heavy on the palm and its taste is sweet, hence its name is Sharbati. As the name suggests, Sharbati variety wheat is slightly sweeter in test probably due to the presence of slightly more amount of simple sugars like glucose and sucrose as compared to other wheat varieties. A fascinating fact about Sharbati atta is that drought brings out the highest quality within this wheat.
Thus the bread out of the Sharbati wheat harvest automatically qualifies to get a much better flour over the remainder. Because of the natural manner in, which Sharbati wheat is farmed, it retains a response to lots of health problems that are typical now. With everybody hankering for a much healthier way to eat, Sharbati wheat, from the virtue of its farming, avoids the use of pesticides and insecticides which makes it a nutritious option.