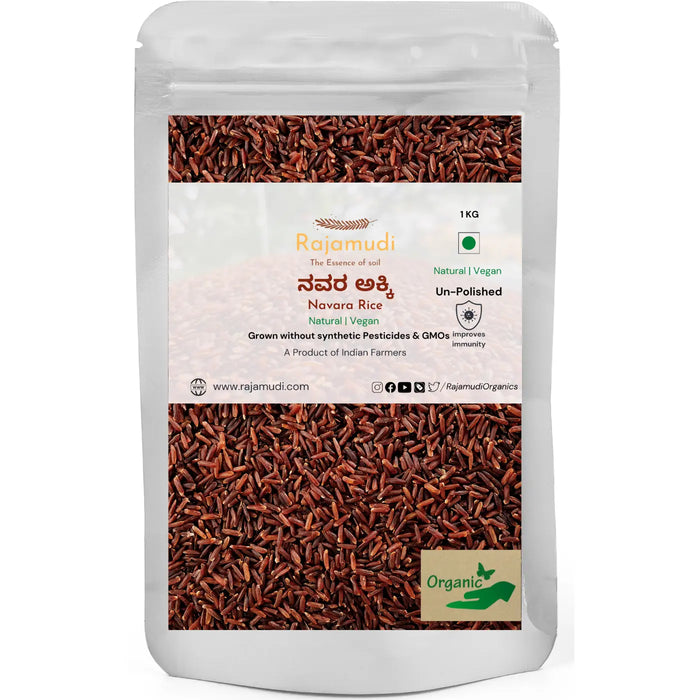 Kerala Medicinal Njavara Rice - Organic Navara Rice by Rajamudi
Save

35

%
Save

30

%
Original price
Rs. 199.00
Original price
Rs. 199.00
-
Original price
Rs. 1,499.00
Original price
Rs. 199.00
Rs. 139.00
-
Rs. 1,199.00
Navara or Navara rice is known to have origins in Kerala also it enjoys GI (Geographical Indication Status). Navara is the indigenous race of rice which exist in 2 forms, black and golden. Of which black-colored Navara rice seems to be healthier than the golden variety. It is known as rice of well-being due to its health benefits and is revered for its medicinal as well as food value. It has one of the highest % of fibber amongst rice varieties and is said to be ideal for diabetic patients and lactating mothers. It has several properties which rectify the basic ills affecting the circulatory, respiratory as well as digestive systems - this is why it has been used in Ayurveda treatment from the age of Charaka – ie. 600 B.C.!
Boiled Navara is a good weaning food for infants, particularly those with low body weight. Navara rice gruel made in cow's milk improves lactation. It is also said to be great for anemic patients. Ayurveda acharyas suggest it as suitable food for people suffering from emaciation, rheumatoid arthritis, hemorrhoids, diabetes, tuberculosis, oligospermia, and also for improving lactation. Regular cleansing of the head with washed-away water of Navara rice 1 hour before bath is said to be useful to prevent premature hair fall.
Njavara Kizhi and the Njavara theppu treatments in Ayurveda make use of these nutritious Navara cereals. Powdered Njavara is often mixed with milk and is consumed as porridge. This rice variety is also known for its religious significance, as it is sometimes used in temples for different religious ceremonies. During the winter season, recipes prepared with Njavara rice are known to have a positive effect on building immunity.
How to prepare medicinal navara kanji Njavara rice porridge?
Nutritious Navara Paal kanji or Boiled Navara rice with milk
 Wash the Navara rice (50gm) in clean water 2-3 times. Drain the rice and keep it aside.
Heat some water (500ml) in an earthen pot or in a rice pan.
Once the water starts to boil, place the rice in the water.
Reduce the flame to a low-medium range and cook it for some time.
When the rice is cooked to a soft state, slowly pour the milk(250ml) and continue boiling for 2-3 minutes.
Add some sugar or white rock candy for a sweet taste.
If needed, you can also include cashew nuts, raisins, and cardamom for an improved rich flavor.
Njavara or Navara rice paal kanji is ready and serve it hot