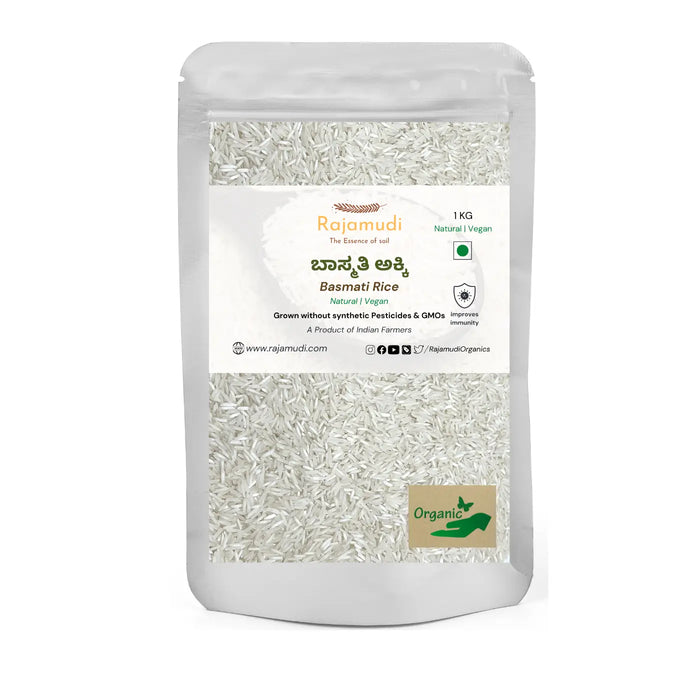 Organic aged Himalayan Basmati Rice by Rajamudi
Original price
Rs. 299.00
-
Original price
Rs. 1,699.00
Original price
Rs. 299.00
Rs. 340.00
-
Rs. 3,200.00
All Natural and Fresh: Grown in the foothills of the Himalayan range, our 2 years aged premium brown Rajamudi basmati rice is of the best quality and taste. It is grown with utmost care preserving the wholesome taste and freshness.
Packed with Health: With unique processing facilities, our royal brown Rajamudi basmati rice is packed with nutrients and is high in antioxidants. It is Gluten-Free, GMO-Free, and absolutely Vegan. Enjoy a tasty meal while giving back to nature every time.
Tastes Amazing: Enjoy the aromatic flavour and taste of basmati rice in your favorite rice dishes with an extra dash of nutrients in every spoon. It is free from cholesterol with a low glycemic index. Get healthier with every bite.
Directions: Use 2 Cups water per 1 cup dry rice and Add 1 tsp oil or any seasoning if desired.
Long grain rice that expands when cooked
Aged up to two years to enhance and intensify its taste, bouquet, and cooking characteristics
Aromatic with a slightly nutty flavour
Naturally gluten-free
All-natural
 Stovetop:
Soak rice for 15-20 minutes.
Rinse thoroughly and drain water..
Add water in a wide pot and heat on low uncovered.
Once the water is at the level of the rice, cover the pot.
Allow to sit for 10-15 minutes. Serve hot.
Rice Cooker/Microwave:
Prep Rice same as above.
Use a microwave-safe dish or rice cooker. Heat for 15-20 minutes on medium heat covered. Serve hot.