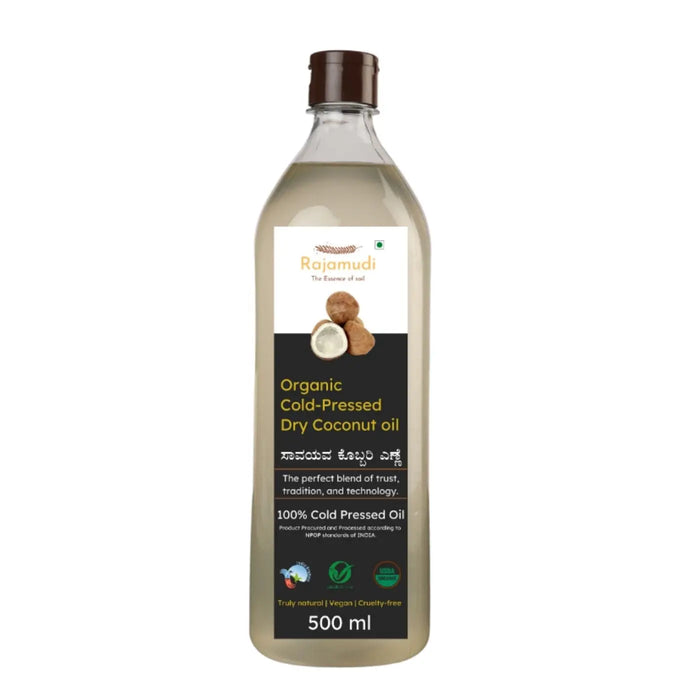 Buy Dry Coconut oil - cold-pressed Dry Coconut oil | Rajamudi
Save

37

%
Save

44

%
Original price
Rs. 329.00
Original price
Rs. 329.00
-
Original price
Rs. 2,499.00
Original price
Rs. 329.00
Rs. 185.00
-
Rs. 1,575.00
Our cold-pressed coconut oil offers a multitude of benefits that make it a highly nutritious addition to your diet. It helps improve good cholesterol, stabilises sugar levels, and may even boost immunity. Not only that, but it also works wonders as an emollient oil that conditions and softens both hair and skin. Regular use as a moisturiser leaves your skin smooth and even textured, while as a hair conditioner, it is highly effective. Cold-pressed coconut oil is especially ideal for treating dry and sensitive skin, as well as damaged hair, and is highly recommended for baby massage due to its gentle properties.
Our coconut oil and sesame oil are carefully crafted to provide you with the best possible experience. We use only the highest quality dry coconuts sourced from ethical farmers, ensuring that each batch is physically verified for quality. Our oils are 100% pure, cold-pressed, chemical-free, and preservative-free, making them a healthy choice for you and your family.
We extract our sesame oil using the traditional Kachi Ghani method, which involves wood pressing the seeds at a very slow speed to retain all the nutrients and rich flavours. As a result, our oil is packed with anti-bacterial, anti-viral, and anti-inflammatory properties that promote good health.

Our coconut oil is an ideal substitute for butter, thanks to its easily digestible nature and instant energy boost. It's perfect for medium-temperature cooking and salad dressings. Additionally, it can be used to condition and soften hair and skin, making it an excellent all-around moisturizer. With no added chemicals or preservatives, our oils offer a better and healthier alternative to refined sesame oil.