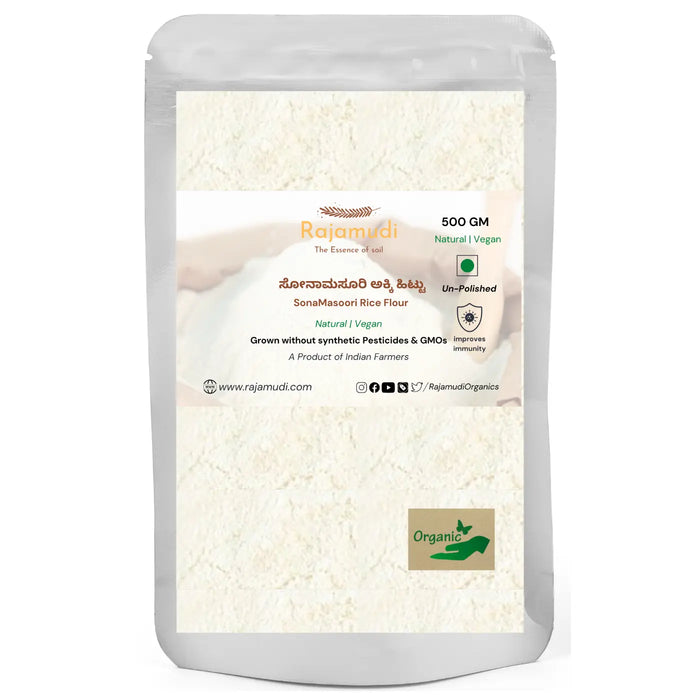 Organic Sonamasuri Rice Flour From unpolished Sonamasuri rice By Rajamudi Organics
Save

35

%
Save

47

%
Original price
Rs. 149.00
Original price
Rs. 149.00
-
Original price
Rs. 299.00
Original price
Rs. 149.00
Sonamasuri, rice becomes its own brand tag in South India's daily food habits and needs no introduction this rice is the staple food across India. Unpolished Sonamasuri rice flour gives a different eating experience comparing any other rice with its unique taste and aroma.
 This Sonamasuri is specially sourced from a cooperative which helps small farmers in Karnataka convert to organic farming.  unpolished Sonamasuri Rice flour is produced when only the outermost layer of the rice grain is removed. This prevents depletion of nutrients which occurs during the polishing that converts brown rice into white rice. Unlike white rice flour, organic unpolished Sonamasuri Rice flour is more nutritious.
 Unpolished Sonamasuri Rice flour is the source of vitamins B1, B3, and B6 and the minerals selenium, manganese, magnesium, and iron Also abundant in dietary fiber and essential fatty acids used It can be used in place of polished white rice.
Nutritional Information: Rajamudi's Organic unpolished Sonamasuri Rice flour is a great protein, calcium, and iron source. Apart from these, a bowl of Organic Sonamasuri Rice contains flour dietary fibers, and all the nutrients that are necessary for your body. A 100g serving of Organic Sonamasuri Rice flour contains 0g trans-fat, 0mg cholesterol, and calorie 36.8.
 Benefits of Organics Unpolished Sonamasuri Rice Flour.
Easy to digest
Stay full for longer
Lower Glycaemic Index
Local & sustainably sourced
Whole Grain
Essential vitamins & minerals
High in protein
High in fiber
 If living a healthy life is your aim, then switch to Organic Sonamasuri Rice by Rajamudi Organics today.