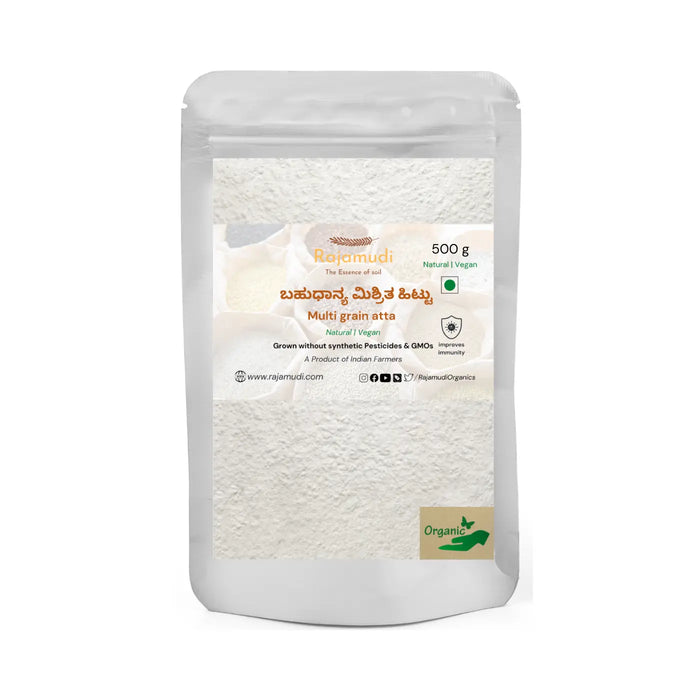 Organic Multigrain atta with 12 grains By Rajamudi
Sold out
Original price
Rs. 199.00
Original price
Rs. 199.00
-
Original price
Rs. 349.00
Original price
Rs. 199.00
We bring the goodness of 12 grains/millets/pulses mix brings together the nutritional strength of the most vouched for grains and helps target health and wellness at unimaginable levels. They help with Diabetes, Hypertension, and heart and brain health while also nourishing hair, skin, and overall strength and energy levels of your body and mind.

12 ingredients of multi millet/grain atta
Rajamudi rice
Little millet
Foxtail millet
Kodo millet
Barnyard millet
Brown top millet
Proso millet
Finger millet
Sorghum Jowar
Pearl millet
Bengal gram
Methi
We Listed out Benefits of 12 ingredients in this atta/flour for you.. 
Rajamudi Rice has good dietary fiber as compared to polished rice. It is rich in antioxidants and phytonutrients also. The antioxidants prevent our body from infections and free radicals. Zinc present in Rajamudi rice improves immunity and speeds up the recovery and healing of the body. It also has heart benefits as well. It removes the plaque that gets deposited in the arteries. Rajamudi rice is also known for providing bone strength. It also has a low glycaemic index.
Little Millet is a whole grain option that is low in carbohydrates and helps in improving glucose metabolism. Glucose in our body can be regulated as the little millet usage slowly releases sugar in our bloodstream, minimizing the absorption of glucose. Thanks to the presence of dietary fibre and resistant starch, little millets also exhibit properties like hypoglycaemic as well as hypolipidemic effects.
Foxtail Millet is rich in Vitamin B12 which is essential for maintaining a healthy heart, smooth functioning of the nervous system, and in general good for skin and hair growth. A diet including Foxtail Millet may improve glycaemic control and reduce insulin, cholesterol, and fasting glucose in Type-2 diabetes patients.
Kodo millet is a rich source of protein, iron, and calcium. Calcium is vital for our bone health. It also has a negligible amount of B Vitamins, which are essential for your nervous system.
Barnyard millet or Sanwa rice as it is popularly known has high levels of protein, calcium, iron, minerals, and vitamin B complex. It is also low in carbohydrates and gluten-free, making it a boon for those with gluten allergies, type II diabetes, and cardiovascular diseases. The Barnyard millet has the lowest carbohydrate content, is gluten-free, and has the highest energy value amongst all the varieties of millets.
Brown Top Millet, is rich in fiber, iron, calcium, potassium, magnesium, and many other important minerals. Brown top millet eases constipation and helps in detoxifying the body. It helps to control high blood pressure and acts as a probiotic for respiratory disorders. It is also recommended for skin and arthritis problems.
Proso millet contains high lecithin which supports the neural health system. It is rich in vitamins (niacin, B-complex vitamins, folic acid), minerals (P, Ca, Zn, Fe), and essential amino acids (methionine and cysteine). It has a low glycaemic index and reduces the risk of type-2 diabetes.
Finger Millet (Ragi) is another well-known millet to help lower cholesterol levels along with sugar levels due to its low digestive pace and keeps you fuller for longer.
Sorghum (Jowar) is high in its protein content which in addition to providing energy also helps in the regeneration of cells. It is a complex carbohydrate and is also high in fiber which moves slowly through the digestive tract and keeps you fuller for longer thus preventing a sudden hike in blood sugar levels. It also helps in curbing the risk of blood pressure and stroke. Jowar is filled with essential vitamins, antioxidants, and minerals like calcium, copper, zinc, phosphorous, potassium, and cell-building B vitamins. It is a grain that is naturally gluten-free.
Pearl Millet (Bajra) is considered very effective in controlling Diabetes. Due to its high soluble fiber content, it helps in reducing the speed of digestion and glucose release.
Bengal Gram, Improves digestion. Bengal gram helps improve your digestive system because of the fiber content in it and it also prevents constipation, Boosts energy, Improves bone health, Treats anemia, and Prevents diabetes.
Methi, fenugreek has benefits for lowering blood sugar levels, boosting testosterone, and increasing milk production in breastfeeding mothers. Fenugreek may also reduce cholesterol levels, lower inflammation, and help with appetite control.