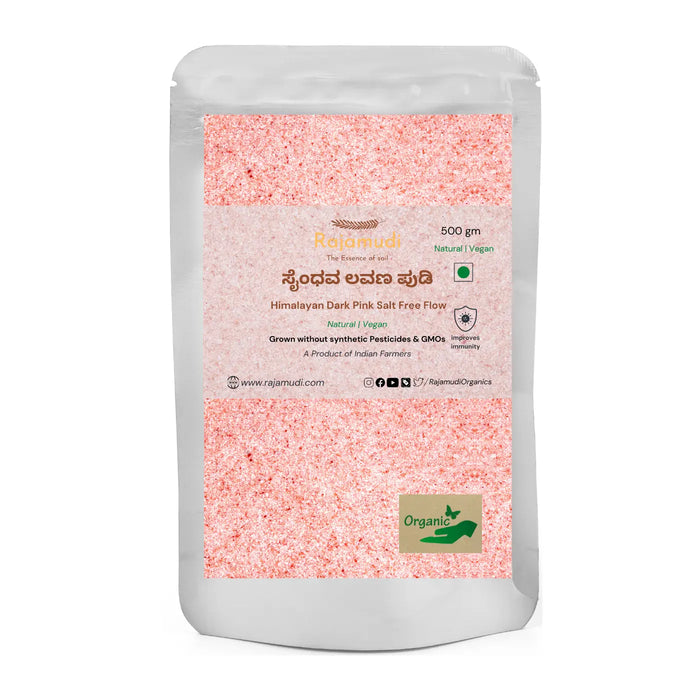 Purest Himalayan Rock Salt Free Flow: Nature's Salt Symphony (Sendha Namak)
Save

41

%
Save

43

%
Original price
Rs. 79.00
-
Original price
Rs. 499.00
Dive into the pristine essence of nature with our Natural Himalayan Salt Free Flow. Harvested from ancient sea salt deposits nestled deep within the majestic Himalayan mountains, each crystal is a testament to unadulterated purity. This salt has journeyed through time, capturing minerals and natural goodness within its crystalline structure. With a delicate pink hue, our Himalayan salt isn't just about taste, but an experience that brings a piece of the Himalayas right to your dining table.
Features/Benefits: 
Rich in Minerals: Contains 84 essential trace minerals and elements that are beneficial for the body.
Unrefined Purity: No additives, bleaches, or artificial flavors; just pure salt in its natural form.
Enhanced Flavor Profile: A more nuanced flavor compared to regular table salt, it accentuates the taste of your dishes.
Natural Detoxifier: When used in baths, it can draw out impurities and provide therapeutic benefits.
Balanced pH Levels: Can help balance your body's pH levels due to its mineral content.
Eco-friendly Packaging: Our commitment to nature goes beyond the product; even our packaging is sustainable.