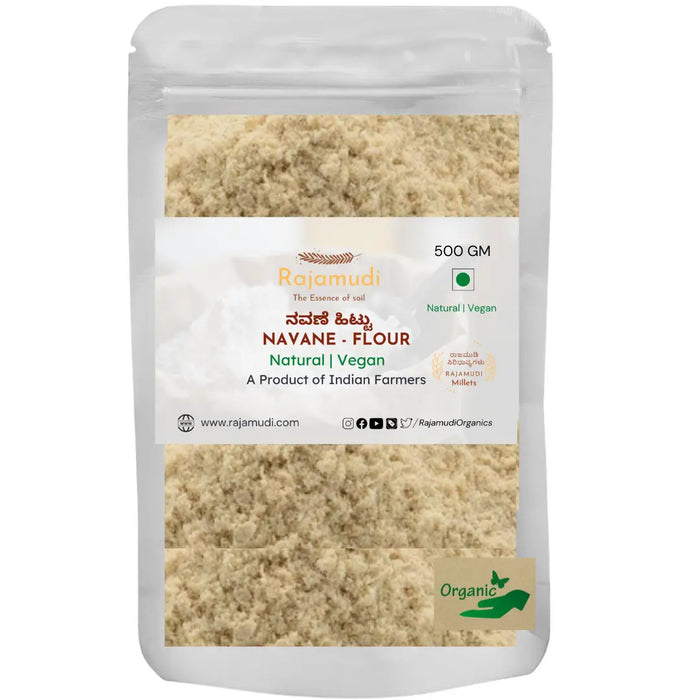 NAVANE - Foxtail millet FLOUR - made from organic foxtail millet | Rajamudi
Save

31

%
Save

47

%
Original price
Rs. 149.00
Original price
Rs. 149.00
-
Original price
Rs. 399.00
Original price
Rs. 149.00
Navane Flour has been sourced from a cooperative society formed by organic farmers of Karnataka. Consuming Foxtail Millet is one way to support an environmentally-friendly lifestyle because it is a water-efficient crop with a short crop cycle; this means it has a low environmental footprint.
These millets are easy to cook and can be adapted to various Indian recipes. It is generally cooked as a porridge for breakfast.
The millet is:
- Gluten-free, high in fibre, antioxidants, iron and vitamins and minerals
- Its rich nutrient content makes it highly beneficial for children.
Benefits of Navane Flour:
100% natural plain Ragi Flour/ Nachni Atta/ Finger Millet Flour/ Kelvaragu Maavu.

Ragi flour is usually made into chappatis or rotis and served with vegetables.

Ragi is a rich source of calcium and dietary fibre. Replace rice with ragi in dosa, idli, puttu and various other dishes to make your diet more nutritional.

Eat more millets - they're good for you! This flour is exceptionally delicious and nutty.
Traditional uses
The grain of Foxtail millet is used in China as an astringent and emollient in choleric affections and diarrhoea.
The seeds are used in India as a diuretic, to strengthen virility, treat indigestion, dyspepsia and rheumatism..
It helps to treat food stagnancy.
The seeds (green) help to reinforce virility.
The white seeds are useful for fever and cholera.
The decoction made from Setaria oil and bark of Acacia Modesta is used as a tonic or to raise fertility in females and males.
It is used in India to enhance vigour and treat bone.
The cooked grains are used in Chhattisgarh as a cure for diarrhoea.
The paste is externally used as a cure for swellings.
It is combined with other herbs to cure Dysuria.
In Aurangabad, the decoction made from the whole plant is used internally for rheumatism and to reduce the pains caused due to parturition.
The seeds are used to treat diabetes.