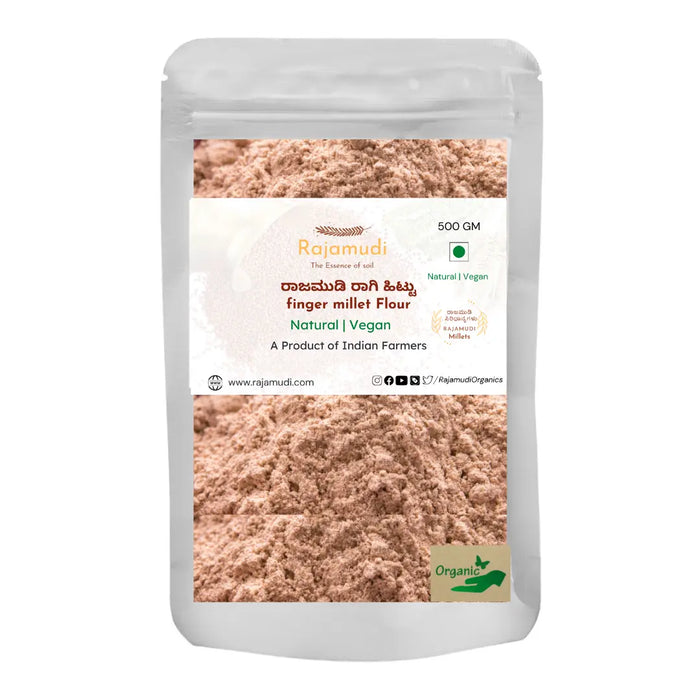 Finger Millet Flour - Ragi Flour | Rajamudi
Save

67

%
Save

67

%
Original price
Rs. 179.00
Original price
Rs. 179.00
-
Original price
Rs. 249.00
Original price
Rs. 179.00
Finger Millet Ragi Flour is an extremely nutritious, energy-dense traditional millet and is known as a superfood throughout the globe.
Gluten-Free, Vegan & Vegetarian.
HEALTH Benefits: Rich source of Protein (10%) for Vegetarians. High in fibre (14%) which helps easy digestion and relieves constipation. Ragi Flour also benefits diabetes with high magnesium content which lowers insulin resistance, promotes heart wellness and aids in weight loss..
Rich in micronutrients like iron, calcium and potassium. And minerals like vitamin C, vitamin E, B-complex vitamins make it a healthy and nutritious ingredient.
How To Use: Ragi flour is used to make a variety of recipes like ragi idli, ragi dosa and ragi roti or could be added as an ingredient in recipes.
Few Health Benefits Of Finger Millet Flour: 
Ragi is rich in calcium. 100 grams of ragi contains approximately 350 mg of calcium. women should have a good amount of calcium in the diet as with age and deficiency of calcium, the bones become porous and cause problems. So it's good for women to include ragi in their meals. Ragi is also good for growing up kids.
Ragi is also rich in proteins. Thus extremely good for vegans and vegetarians.
Ragi is also a good source of iron. So beneficial for people having anaemia.
Ragi also has some essential amino acids which are required by the body.

 

Ragi is easily digestible and very nutritious.
Made from the finest of Rajamudi rice which is rich in dietary fibre, antioxidants and iron. It is from unpolished rice. It can lower cholesterol, blood glucose and obesity.
Simple to consume as a dosa, roti, uttapam, paddus. Can also be an alternate for wheat flour in cakes and biscuits.
Nutrient information Per 100g.
(approximate composition)
Calcium: 350 mg
Protein: 15 g
Fat: 3 g
Carbohydrates: 62 g
Dietary fibre: 19 g