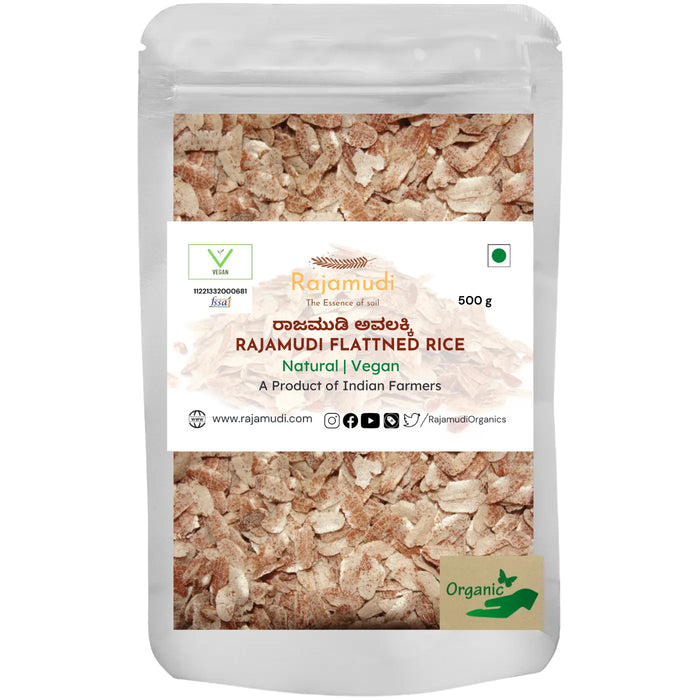 Rajamudi avalakki ( Poha )- Made from Authentic Organic Rajamudi rice | Rajamudi
Save

26

%
Save

34

%
Original price
Rs. 149.00
Original price
Rs. 149.00
-
Original price
Rs. 699.00
Original price
Rs. 149.00
Rajamudi Flattened rice, also called Kannada Avalakki, also popularly known as Poha, is made from authentic organic rajamudi rice. Rajamudi Rice has good dietary fiber as compared to polished rice. It is rich in antioxidants and phytonutrients also. The antioxidants prevent our body from infections and free radicals. Zinc present in Rajamudi rice improves immunity and speeds up the recovery and healing of the body. It also has heart benefits as well. It removes the plaque that gets deposited in the arteries. Rajamudi rice is also known for providing bone strength. It also has a low glycemic index.
 Do you know Rajamudi Poha is Good Probiotic food?
 This may come as a surprise to many, but Rajamudi poha is good probiotic food too. This is because the dish is made by parboiling paddy and then drying it out in the sun for a few hours. After this, the dried product is beaten flat to make poha. The finished product has undergone fermentation and hence retains the microbial flora from the partially digested carbs and proteins, which is healthy for the gut..