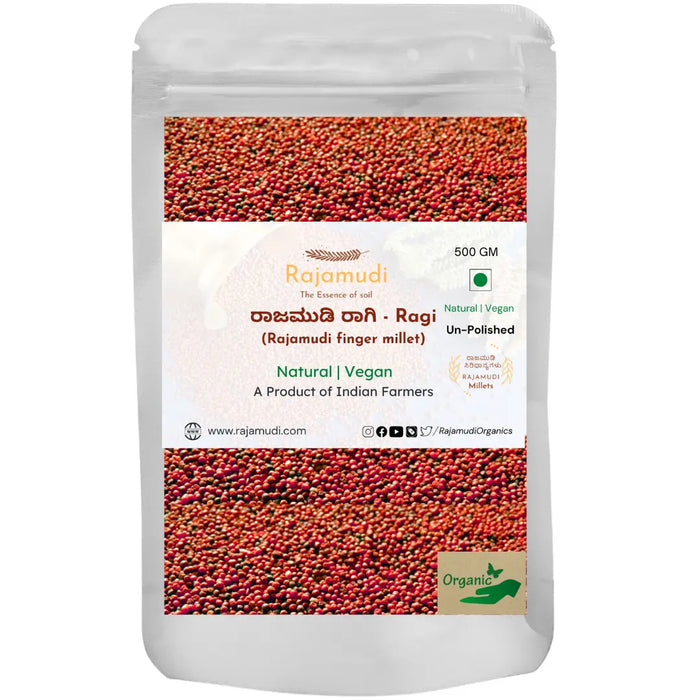 Rajamudi Finger Millet Whole Grain- Raagi Unpolished | Rajamudi
Save

40

%
Save

50

%
Original price
Rs. 119.00
Original price
Rs. 119.00
-
Original price
Rs. 299.00
Original price
Rs. 119.00
Rajamudi Finger Millet is exotic Ragi, once favoured maharajas and much sort after in courtly cuisine and royal kitchens. Now relegated in small pockets of cultivation, it deserves to be conserved and enjoyed. Rajamudi' s Rajamudi Finger Millet is flavourful and goes well with any Indian dish.
Rajamudi Ragi uses premium-quality grains sourced from selected farms. Add in batter or dough to improve diet. Helps in reducing stress and lowering blood sugar levels. Helps you prevent your late-night cravings. Wholesome grain is the ideal staple for diabetics.

Ragi Uses :
Aside from being a panacea for practically every illness bothering the internal organs in the body, ragi flour also enhances the external appearance by revitalizing skin and strengthening hair. This is chiefly owing to its amazingly high amino acid content and potent antioxidants. Moreover, the slightly coarse attribute of ragi flour makes it a wonderful exfoliating agent, that completely removes dead cells from the face, body and scalp, apart from providing a refreshing look and radiant glow to skin and hair.
Reduces Acne And Boils
Ragi is imbued with tannins, which are plant compounds with anti-inflammatory qualities. Thus, it aids in decreasing acne, pimples and boils, besides brushing away dark spots and scars.
Prevents Hair Fall
Consisting of formative amino acids such as methionine and lysine, a ragi hair mask as well as ragi in the diet enriches hair growth and renews the texture of tresses. This controls hair fall and averts premature greying and balding.