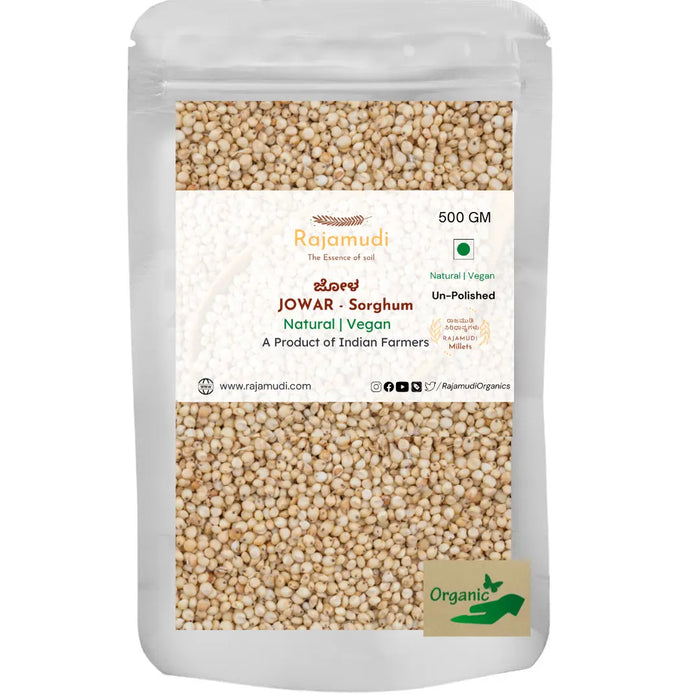 JOWAR - Sorghum - Rajamudi Millets | Rajamudi
Save

30

%
Save

45

%
Original price
Rs. 119.00
Original price
Rs. 119.00
-
Original price
Rs. 299.00
Original price
Rs. 119.00
Sorghum bicolour Family: Poaceae (Grass Family) Jowar is a plant cultivated for grain for human consumption and for animal feed. The species originated in northern Africa and can grow in arid soils and withstand prolonged droughts. Jowar is usually annual, but some cultivars and perennial.
Sorghum or Jowar is a type of millet and is a gluten-free grain. It is rich in vitamins and minerals, along with providing great protein content and making up for a large portion of your dietary fibre. Due to its high dietary fibre, it is one of the best foods in the world for improving digestion..
(Hindi: Jowar, Tamil: Cholam, Telugu: Jonna, Malayalam: Choum.)
Description: The grains are round and smooth, 3.5 to 5.0 mm. The Colour of the grain is generally brownish to yellowish-brown.
Jowar, also called Sorghum, is highly rich in good quality fibre and is one of the most nutritious members of the millet family.
✅HEALTH BENEFITS: Rajamudi Jowar is globally known as the "new quinoa" for its gluten-free and whole-grain goodness. The biggest selling point of Jowar is that it's gluten-free and can prevent digestive problems such as bloating, pain and stomach cramps.
✅NUTRITION FACTS: The product contains 10 g of proteins, 3 g of fats, 316 kcal of energy, and 69 g of carbohydrates.
Rajamudi is your one-stop shop for all your essential ingredients used for daily cooking with produce from around the world, from trusted Indian brands to your global favourites.